When you think of skiing Canada, one destination instantly springs to mind: Whistler.
You'll find Whistler nestled in the southern part of British Columbia's Pacific Ranges, just two hour's drive from Vancouver. Its distinctive name comes from the unique sound made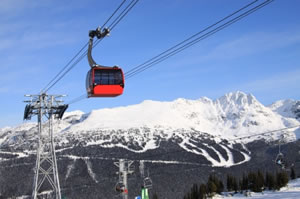 by the hoary marmot that lives there. For many years Whistler was only used as a thoroughfare for moving cattle, but when Myrtle and Alex Philip built their Rainbow Lodge retreat in 1914 people began to see the destination's potential. Today this resort town is regarded as Canada's premier skiing spot, which is no doubt why some two million tourists visit every year.
Its winter sports facilities are world class, so it's no wonder that the resort hosted many of the events at the 2010 Winter Olympics. Whistler and Blackcomb Mountains have runs for seasoned skiers and snowboarders, and anyone finding their snow legs. Sign up for a group class or clinic if you want to learn how to ski or simply pick up a few new tricks. You can take your own skis and equipment, but if you'd prefer to leave them at home rental stores are located throughout the village.
Skiing and snowboarding the mountains is always popular, but if you want to try something different consider enjoying dog-sledding or a romantic sleigh ride by moonlight.
Once the snow melts many travelers trade their skis for a mountain bike. With more than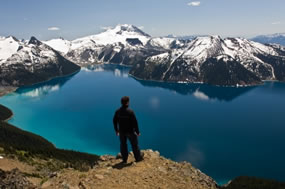 120 miles of challenging trails stretching through lush forests, Whistler Mountain Bike Park is considered by many to be the best park of its kind in the world. The jump parks and table tops might sound daunting, but the park promises a great ride to bikers of all skill levels. The paved Valley Trail is just one of the family-friendly options the summit offers.
After a day in the saddle, there are few things more enticing than a soak in a resort hot tub or a luxury treatment at one of Whistler's day spas. Both will ease your aching muscles so you're ready to take on the trails tomorrow.
While Whistler is jumping at any time of year, the ski resort really comes alive for a festival. The town hosts many annual events including Kokanee Crankworx, a mountain bike festival held every July, the gluttonous Cornucopia each November, and the Whistler Film Festival in December.
No matter what the season, remember to pack warm winter clothes. It's unusual for temperatures to rise above 86 °F, so it's smart to carry a coat even in summer.
While visiting Whistler, make sure you keep an eye out for the famous black bears. With many of the pine forests suffering from droughts, the bears now forage for food in the urban areas. They're very canny critters, with many learning to open car doors and gates in pursuit of dinner. They are docile though, so if you leave them well enough alone they'll show you the same courtesy.
Most accommodation in Whistler tends to be luxurious, from full-service five-star hotels and lodges to delightful ski chalets by the slopes. If you hope to save some cash and enjoy some of Whistler's legendary hospitality, look to the charming bed and breakfasts on the village's outskirts.