Music City, Cashville, Nashvegas; whatever you call it Nashville, Tennessee offers urban sophistication with southern hospitality to the many tourists who visit each year.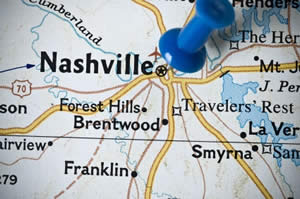 Nashville's climate is humid subtropical, with steamy summers and mild winters. When winter sets in Nashville does see snow, but falls are rarely heavy. But if you're prone to sneezing make sure to pack your antihistamines during fall and spring; the city has the dubious honor of being one of the worst for allergy sufferers.
Nashville was founded in 1779 and grew quickly due to its prime location and status as a shipping port, and later as a railroad center. Despite its rich history, today most visitors are interested in the city's musical heritage. The name Music City was first coined by radio announcer David Cobb in 1950, but Nashville's musical roots extend much deeper. A who's who of country music have performed at the Grand Old Opry since 1925, and bands like The Francis Craig Orchestra and the Fisk Jubilee Singers entertained crowds even earlier than this.
Today music lovers look to the Bridgestone Arena for performances from leading national and international artists. The Arena is also home to the national hockey team, the Nashville Predators. But it'd be a mistake to stick to the big venues; some of the most exciting new talent can be found in the nightclubs and honky-tonk bars of Broadway, 2nd Avenue, and Printer's Alley. These streets are also home to some exciting restaurants which dish up everything from high class cuisine to Southern comfort food.
If music isn't your thing, or if you'd just like to take a break from Nashville's beats, the city has many other attractions to discover including its beautiful parklands. The largest is Warner Parks, with is scenic roads, and horse and hiking trails. The Iroquois Steeplechase is raced here every May. With their proximity to water, Old Hickory Lake and Percy Priest Lake Parks are popular spots for water-skiing, sailing, and fishing. Centennial Park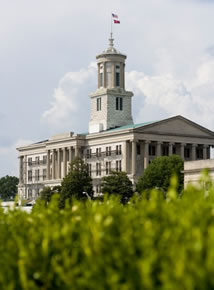 is one of the most unusual Nashville parks, an inner-city oasis which is home to a full-scale plaster replica of the Greek Parthenon.
History buffs have many sites to explore while visiting Nashville. It is not the original Fort Nashborough standing on the banks of the Cumberland River, but a faithful reconstruction of the stockade that paved the way for the city of Nashville as we know it today. Meanwhile Fort Negley, a Civil War battle fort, has been restored to resemble its former glory. The Tennessee State Capitol is one of the oldest capitol buildings currently in use, while The Hermitage, the plantation owned by Andrew Jackson, is one of the most historic presidential homes welcoming public visits. For more history lessons it's hard to beat the Tennessee State Museum, a large museum which documents the state's history from pre-colonization to the present day.
Like state capitols? Take a trip to Juneau, Alaska too!
With Nashville becoming home to many musicians with stars in their eyes, the city has to offer accommodation to suit all budgets. Simple inns and budget hotels offer basic facilities to travelers watching their pennies. For something more luxurious, look to the plush digs of big name hotel chains including the Sheratons, Hiltons, and Marriotts.