While most of the world's capital cities are frantic urban centers teeming with activity, life moves at a slower pace in Juneau, Alaska. And that's just how the locals, and the visitors who visit their part of the world, like it.
You'll find this sleepy coastal town on Alaska's Gastineau Channel. It is only accessible via air or sea, and is a popular port for cruise ships. The Alaskan capital was named after Joe Juneau, a Canadian gold prospector who helped to settle the town. Considering its relaxed pace, it's surprising to note that Juneau has almost the same area of Rhode Island and Delaware combined.
Most of the action is concentrated in downtown Juneau. This region hosts the free Alaska Folk Festival every April, and the Juneau Jazz and Classics Music Festival the following month.
But you needn't wait until festival time to enjoy Alaskan culture. The First Friday Gallery Walk takes art lovers to the city's many galleries on the first Friday of every month. During summer, musicians and dancers perform open-air concerts in Marine Park.
But to stay in Juneau's urban center is to miss much of its beauty. The area is surrounded by glaciers, the most famous and popular being the Mendenhall Glacier. The icy landscape stretches for 12 miles and at its widest point measures half a mile across the Mendenhall Valley. If you're short on time you could spend an hour taking a quick hike around the visitor's center, but it's easy to spend all day on the site if you're enjoying a longer trek or guided tour. There are many tour options available, including float plane and helicopter flights for a luxurious bird's eye view, and bus rides on the affordable Glacier Express. If you enjoy your time at Mendenhall make sure you visit Juneau's other glaciers; Taku, Herbert, and Eagle are all spectacular and accessible through local tours.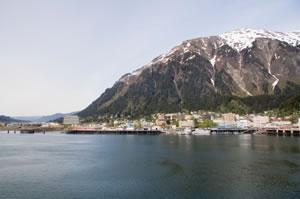 Juneau has become a social center for many of the native tribes of Southeast Alaska, including the Haida, the Tsimshian, and the Tlingit. They still practice the traditional art techniques of their forefathers, and entertain tourists with their singing and dancing at the Celebration festival every two years.
If you're not lucky enough to visit during the Celebration festivities, you can learn about these native cultures through the Alaska State Museum's exhibits or a ride on the Mount Roberts Tramway. The tramway takes in many indigenous artworks, including living tree carvings on the Alpine Loop Trail, totem poles, and a beautiful beaded waterfall made of glass and crystal beads. At the Raven Eagle Gift Shop, indigenous artists carve jade, ivory, silver, and other materials, and demonstrate intricate beadwork as they tell tourists about their traditional way of life. If you like what you see, you can even take a piece home as a souvenir.
The waters of the Gastineau Channel have been a favorite fishing destination since before European settlement, and they're just as popular today. You'll need to be patient though; many Alaskan fish migrate so you'll need to choose the right time of year to land your favorites. Enlisting the services of a professional guide or joining a charter tour will give you the best chance of finding Alaskan salmon, trout, or halibut.
Tip – consider a trip to the Oregon Coast if you want to enjoy a similar experience in the Lower-48!
Juneau brings tourists all of the facilities they'd expect from a capital city, with the soul of a small town and the beauty of a natural wilderness. It's a rare mix, and one which leaves a lasting impression on anyone who visits.