Maui is the second-largest of the Hawaiian islands, and perhaps the American state's most famous.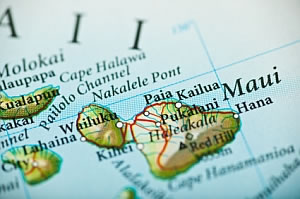 As with most Hawaiian islands, most tourists come to Maui seeking sun, surf, and sand. With around 120 miles of coastline and more than 30 miles of beaches, Maui doesn't disappoint. Black, red, and white sand beaches allow travelers to enjoy surfing, snorkeling, and windsurfing on the waves and baking on the sand. For safety it's recommended that tourists stick to beaches patrolled by lifeguards including Kaanapali Beach, D.T. Fleming Beach Park, and Kamaole Beach Parks. However strong swimmers may enjoy the seclusion of the secret beaches found off the beaten tourist track.
Long before it become an enviable beach destination the island was inhabited by Polynesian natives from Tahiti and the Marquesas. While British explorer Captain James Cook admired the island from afar in 1778, it took another eight years for a white man to set foot on Maui soil. That was Jean-Francois de La Perouse, a French admiral whose influence is remembered at La Perouse Bay. He opened the floodgates for European migration; traders, loggers, whalers, and missionaries all quickly made Maui home and set about civilizing the native people.
While the influence of white people degraded much of Maui's traditional culture, it is still remembered in many parts of the island. Many hotels offer hula and lei making classes to teach guests the native dance and craft techniques of the Hawaiian people. Luaus are also a great way for Westerners to learn more about Hawaiian cultures while enjoying a fun night out. These traditional feasts see kalua pigs cooked in earth ovens and served with haupia, a kind of coconut pudding, and a taro starch called pot. With bellies full, guests are then entertained by hula dancing and traditional live music.
Driving the Hana Highway is a great way for tourists to explore Maui. This winding stretch of road running along the east coast of the island passes black sand beaches and waterfalls as it curves about the area's mountain ranges.
Away from the water's edge, Maui is dotted with volcanoes. One of the most popular for tourists to discover is Haleakala, a massive dormant volcano nestled in the Haleakala National Park. This is not a lush green national park as you might expect, but an eerily desolate area of wilderness. Walking trails lead to the summit and visitors center just below it. The paths don't look very challenging, but trekkers are encouraged to bring a canteen of water as the thin air and high elevation can easily lead to dehydration. If all that sounds too difficult, you can drive your car to the top for a small fee, or make the journey on horseback. The trip to Haleakala's peak is worth making for its breathtaking views, particularly at sunset.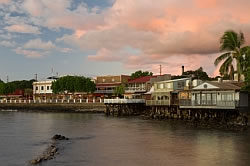 To enjoy Maui's more commercial side, head to Lahaina. Today the streets of this former whaling port are lined with art galleries, quirky retail stores, and restaurants. Its wharf is a popular port for whale watching expeditions and romantic sunset cruises.
Maui offers a range of accommodation for all budgets, from the high-end resorts of the west coast tourist towns to the more homely bed and breakfasts of the east coast. Most are located close to the beach, so travelers can enjoy the sun and surf that attracted them to Maui and so much more.