Lake Tahoe stretches along the border of California and Nevada, working with the Sierra Nevada mountain range to divide the two Western states. The area surrounding this alpine lake, also known as Lake Tahoe, draws visitors keen to enjoy all of the outdoor attractions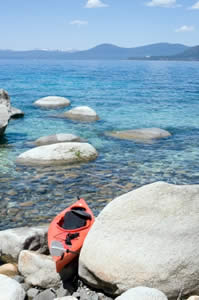 the locale provides. No matter what the season, Lake Tahoe has an activity to get your blood pumping.
During winter the region's many ski resorts come alive. Some of the most popular include the massive Heavenly Mountain Resort and the site of the 1960 Winter Olympic Games, Squaw Valley. Smaller public and private sled parks complement these larger resorts. You won't find ski lifts and other high-tech features here, but guests enjoy the sense of community and the affordable prices. For an alternative to traditional skiing and snowboarding, why not try snow tubing? Many resorts, including Squaw Valley, have facilities for this sport which sees participants riding large round rubber tubes. It's a bit like sledding, but due to the circular shape of the tube it's much more unpredictable!
Once the snow thaws Lake Tahoe, becomes a haven for water sports. Boating is a favorite pastime, and as most lake-front restaurants have docks you can easily stop for a bite when you get hungry. Scuba diving is also popular, but not for beginners. The lake's high altitude sees many divers suffer from decompression sickness. If you want to avoid feeling queasy, you could catch some waves at beaches like Camp Richardson, Zephyr Cove, or Round Hill Pines, or play a few rounds at one of Lake Tahoe's golf courses.
Hiking or biking along the Tahoe Rim Trail and enjoying a lakeside picnic in one of the region's national parks are popular pastimes at any time of year.
But the Lake District's appeal goes beyond the great outdoors. On the Nevada side, Lake Tahoe is just a stone's throw from the casinos of Reno, Sacramento, and Carson City. Unlike most American states, gambling is legal in Nevada so many tourists come to play the tables and slot machines.
Away from the glitz and glamour of the casinos, Lake Tahoe is steeped in culture. The lake has inspired many local artists who display their works at galleries including A Frame of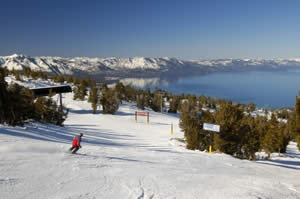 Mind, The Haldan Art Gallery, and the six galleries of The Village Center. This center also leads Art Walks on the third Friday of every month. These allow travelers to meet the artists and watch them demonstrate their craft.
The Valhalla Grand Hall and Boathouse Theater was once a favorite vacation spot for wealthy Californians, but today it's been converted into a cultural hub, presenting musical performances, festivals, and art exhibitions.
If you'd prefer to take things easy, Lake Tahoe can help you wind down with a massage or spa treatment. Most resorts have healing hands on staff, but if you're not staying in a place with these facilities you can always check into one of the lakeside community's salons.
Visitors to Lake Tahoe are spoiled for accommodation choice, with the area offering everything from high class hotel rooms to charming rustic cabins. And if you'd prefer to take your accommodation with you, just check in to one of the lakeside RV parks or camping grounds.