With its pristine beaches and rich history, it's little wonder that Oahu is the most populous island in Hawaii. With its distinctive diamond shape, it can easily be thought of as a jewel in the Pacific Ocean.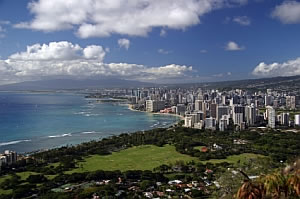 Perhaps that glittering visage is what made it the first Hawaiian island spotted by Captain James Cook and his crew on the HMS Resolution in 1778. However Europeans didn't set foot on the island until fellow Brit Captain Charles Clerke helmed the same ship a year later.
The most well known location in Oahu is Hawaii's capital city, Honolulu. It is regarded as Oahu's cultural hub, with its historic buildings, museums, and art galleries. Its Iolani Palace is the only royal palace in the United States, while the Hawaii State Art Museum shows a stunning collection of local arts and crafts. These activities might keep tourists occupied during the day, but it's once night falls that Honolulu really comes alive. Jazz clubs and wine bars sit alongside the bustling excitement of the Chinatown marketplace.
Rivaling Honolulu's reputation is Waikiki, a beach side playground home to luxurious hotels, shopping districts, and of course, the sparkling beach which shares its name. This break is particularly popular with families and novice surfers, as the waters are calmer than many Hawaiian locales. That also makes it perfect for sailing catamarans or trying your hand at outrigger canoe surfing or the emerging sport of stand up paddle. Flat waters are ideal for this new leisure activity which sees participants using a paddle to maneuver a surf board.
However, you'll miss much of Oahu's charms if you stick to the traditional tourist spots. The North Shore enjoys life at a quieter pace with its quaint shops and cafes. Seasoned surfers will find the big waves they've hoped for at Waimea Bay and the Banzai Pipeline.
History buffs will want to visit Pearl Harbor, the site the Japanese suddenly attacked in the opening battle of the Second World War. Today this harbor on Oahu's North Shore has several attractions remembering this key moment in America's history, including the USS Arizona, and the Pacific Aviation Museum.
Tourists are invited to swim with green sea turtles and dolphins in the waters of the Leeward Coast. Wild Side Specialty Tours introduces travelers to curious spinner, bottlenose, and rough-toothed dolphins who are always happy to make new friends. From there it's on to the coral reefs to meet the region's giant turtles and tropical fish.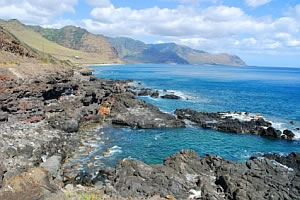 Oahu is known as The Gathering Place, and that's exactly what locals and residents do during the island's many festivals. Dance, arts and crafts, and parades celebrate the capital city and its way of life each March at the Honolulu Festival. Hula dancing takes center stage at the Annual Prince Lot Hula festival, held at the Moanalua Gardens in Honolulu each July. Traditional music is showcased at the Annual Ukele Festival in July and the Annual Hawaiian Slack Key Guitar Festival each August. And don't miss the surfing, swimming, and other water sports at Duke's OceanFest later that month.
Of course, you don't need a festival to enjoy Oahu. This island paradise turns on its tropical charms at any time of year.