Juneau may be Alaska's capital city, but if you're looking for a livelier pace and more cosmopolitan vibe you'll need to head north to Anchorage. This is Alaska's largest city, and one of its most popular vacation destinations.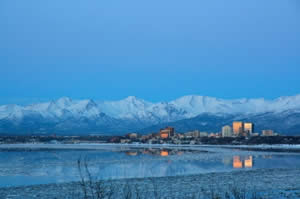 Remember to bring your sweaters, as Anchorage enjoys a subarctic climate. The maritime winds influence temperatures, making them chillier throughout the year than other Alaskan locales.
Unlike most of Alaska's large cities, Anchorage had no mines or fishing ports. It was mere chance that saw the city become a construction port for the Alaska Railroad in 1914. Its early economy centered around the rail industry, but in the 1930s to 1950s it became a key site for America's military and air transport businesses. Oil was then found in Prudhoe Bay in 1968, a discovery which led to further growth in Anchorage.
But before European settlers arrived, Anchorage was home to the Dena'ina people. Their culture is celebrated through exhibitions and interactive displays at the Alaska Native Heritage Center and the Anchorage Museum. The former is particularly engaging, as tourists can hear Alaskan natives tell the stories of their past, and see them demonstrate traditional song, dance, and art techniques. Travelers interested in the indigenous people of Anchorage can purchase a Culture Pass, which offers discounted entry to both attractions and a free shuttle bus between them.
Alaskan animals don't seem to mind the crowds and traffic of Anchorage. It's not uncommon to see bears, moose, or dall sheep wandering the streets. This can be very exciting for tourists, but it's important to remember that these are wild animals. While they are accustomed to people, travelers should view the creatures from a safe distance and use their commonsense.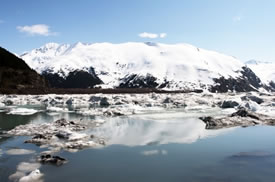 While those critters might make you feel like you've stepped into an episode of Northern Exposure, Anchorage's thriving arts scene reminds you that you're still in civilization. The Alaska Center for the Performing Arts brings opera, symphonic performances, Broadway musicals, theater, and popular music to the people of Anchorage.
If sports are your thing you'll find them at Sullivan Arena, Anchorage Football Stadium, and Mulcahy Stadium. For something more unique make sure you're in town for the Iditarod Trail Sled Dog Race, which is held annually on the first Saturday of March. The Iditarod is the most famous, and longest, dog sled race in the world. If you can't make it for that, there are also sled dog races in February as part of the annual Fur Rendezvous festival.
For more natural pleasures, look to Anchorage's many parks and gardens. At the foothills of East Anchorage you'll find Chugach State Park, one of the largest state parks in North America. With almost half a million acres to explore it's a great spot for hiking, camping, and viewing more of Anchorage's famous wildlife. For a tamer experience look to the Alaska Botanical Garden; it features around 150 native plants and more than 900 tough perennials.
If you haven't had your fill of animals in the streets, you'll want to visit the Alaska Zoo. It's home a variety of arctic and sub-arctic animals including crowd pleasers like Oreo the brown bear and Ahpun the polar bear. At 25 acres it's smaller than many state zoos, but its large number of native animals helps to attract crowds.
Anchorage is a metropolitan city unlike any other, with larger-than-life experiences and a love of the great outdoors. If you like your vacations a little wild, a stay in Anchorage may be for you.